"THE CAR"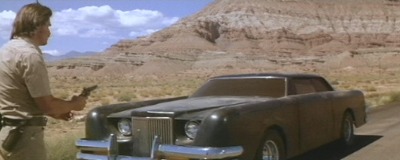 Click on the "preview" above for "live" streaming video scene" from the movie The Car. If player does not open, turn off pop-up blocker software.
The demon possessed automobile of the classic 1977 TV film, "The Car." Our die cast metal and plastic replica features classic land yacht styling, dark-tinted windows, chrome-look double bumpers front and rear, opening hood with detailed engine, opening doors, detailed interior with folding seats, moving steering wheel and wheels, chrome-look rims, and opening trunk. 1:18 scale. 12.5" long.
#JS-29013 $79.95.
_______________________________________________
Speed Racer's Mach 5
In 1967, 52 episodes of a Japanese cartoon series were dubbed into English and Speed Racer was born! Millions of youngsters rushed home from school each afternoon to watch Speed Racer, his pals, and his fantastically equipped, futuristic Mach 5 outwit a never ending assortment of villains. Celebrate 35 years of Speed Racer with this 1:18 scale die cast metal Mach 5. Features include an opening hood, trunk and doors, working rotary saw blades, moving tires, spring-loaded periscope, functioning auto jacks and a mini figure of Chim Chim, the mischievous monkey. Collectible box with original artwork.
#BA-43423 $79.95.
____________________________________________________
Speed Racer's X Shooting Star Die Cast
The mysterious Racer "X" drives his car, the Shooting Star, in the same races as Speed Racer in order to keep a protective eye on his younger brother, and a watchful eye on the villain of the day. This 1:18 scale metal die cast model features a telescopic arm with claw; spring-loaded periscope; detailed drivers compartment with folding seats, movable steering wheel and gear shift; rubber tires; opening doors and hood; and authentic graphics. 11.5" long.
#BA-45532 $79.95.
_______________________________________________
Munsters Dragula Die Cast
Grandpa Munster, patriarch of TV's Munster clan, was not your ordinary grandfather, and neither was his ride! The "Dragula" featured a casket body, with the macabre motif extending to the coffin-shaped radiator and marble gravestone grille. Our 1:18 scale die cast replica features steerable front wheels, rear racing slicks, bat-shaped air scoops, organ pipe exhausts, and "cemetery" lantern headlights. The metal coffin lid opens to reveal a detailed driver's compartment. 8.5"L x 3.75"W.
#JS-45522 $89.95.
_______________________________________________
Flintstones Flintmobile
Powered by Fred's bare feet (which also served as the brakes), the Flintmobile featured an open canopied interior and little else in the way of options. Still, it was the perfect family car for the drive-in, and Fred's trips to the bowling alley and lodge meetings. Our die cast & resin model includes PVC Bedrock figures and rolling wheels. Measures 7.25"L x 4"W x 5.75"H.
#BA-46700 $69.95.
_______________________________________________